In Your Eyes: Caregivers' Role in
Bereavement Photography

Children's Memorial Hospital
Chicago, Illinois

April 22, 2011
9:30AM-3:30PM

Registration $225
All levels of experience welcome.
A full-day intensive session for all caregivers interested in improving the quality and content of photographs they take for grieving families experiencing perinatal loss.


The session includes:

Instruction
Demonstration in L&D and NICU scenarios
Hands-on student participation
Take home prints of your photographs
Nursing & Social Work CEUs available
Lunch
This interactive workshop session will describe and demonstrate approaches and techniques in the taking of bereavement photographs, for caregivers involved in this practice. In addition to participant observation and participation in making photographs in mock-bereavement scenarios setup in the classroom, slide examples will be shown and tips on communication with parents provided. Issues relative to protocol and institutional structure will be discussed. Participants will learn the importance of being supportively present while taking pictures and the value of photographs to bereaved families.

This 6 hour session (previously held at conferences for only 90 min.) offers valuable information and an emersive experience that will help you provide meaningful and beautiful photographic mementos for the families you serve.

Learn about documentary photography and how it is used in bereavement care to capture presence and relationships during a very intimate time. Understand stylistic approaches and some basic principles of photography. This is not a highly technical course.

Bring your camera or use ours - you are guaranteed time photographing in realistic scenarios with one-on-one instruction with Todd. Share what you have learned with staff at your institution and show them the pictures you took.


If your hospital would like to host a future workshop, please write todd@toddhochberg.com
or call toll free 888.818.8908
Hear what past participants of this valuable session have to say:
"A tremendous workshop... excellent information - taught form the heart. Thank you Todd."

"Totally changed my view of picture-taking. The black & white showed so much emotion. Focus on relationships is so important, not just pictures of the baby - thank you."
"One of the BEST most practical seminars I have ever been to - I will be able to take this info back to my unit so we can do a better job for our families.

"I know how to operate my camera better. Now I can take pictures." "Beautiful photos! Wonderful to be able to practice taking photos and seeing what they look like."

"Wonderful workshop! Can't wait to share what I have learned with my co-workers."
Learn what others across the U.S. and Europe have from
In Your Eyes workshops held:

In Your Eyes full-day Workshop
Leicester Royal Infirmary
Leicester, UK - Sept. 2010

In Your Eyes full-day Workshop
St. Edward Mercy Medical Center
Fort Smith, AR - Sept. 2009

In Your Eyes full-day Workshop
Children's Memorial Hospital
Chicago, IL - Sept. 2009

In Your Eyes full-day Workshop
Rush Copley Medical Center
Aurora, IL - Nov. 2008

In Your Eyes half-day Workshop
2008 RTS Conference
LaCrosse, WI - Aug. 2008

In Your Eyes full-day Workshop
Dekalb Medical Center
Atlanta, GA - Feb. 2008

In Your Eyes half-day Workshop
Cincinnati Children's Hospital Medical Center
Cincinnati, OH - Nov. 2007

In Your Eyes half-day Workshop
Good Samaritan Hospital
Downers Grove, IL - June 2007

15th National Perinatal Bereavement Conference
Chicago, IL - Oct. 2006

12th Annual Perinatal Bereavement Conference
S.U.N.Y. at Stony Brook, NY - Jan. 2007

8th Annual Neonatal Nursing Symposium
University of Michigan Medical Center - Nov. 2006

Wellspan 2006 RTS Staff Support Retreat
Wellspan Health Care - April 2006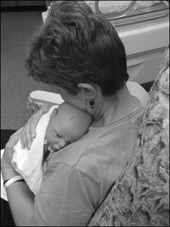 "Your information, ideas and photography tips will help us to provide better photos that our families will cherish. Through this [workshop] you will touch so many lives. Thank you."
(RN Session Participant)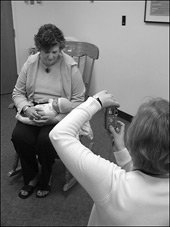 Todd Hochberg is a documentary photographer. His Touching Souls Bereavement Photography has supported parents experiencing perinatal loss, as they say goodbye to their babies, since 1997. In conjunction with hospital bereavement programs, palliative care programs, hospices and directly with individuals, he makes documentary photographs for families struggling with a loved one's serious illness or grieving the death of a loved one. The images serve as touchstones for feelings and memories pertaining to deep significant relationships and spiritual connections some of which may flourish in the intimacy of the last days or months of life. Todd's work is published widely and he presents to a variety of professional groups nationally and locally.